The working people all over India
To undertake a great pilgrimage a strong determination is needed. Failure or doubt never crossed my mind. Luckily India is an easy country to travel, as help is always at your hand whenever needed.
Thanks for the openheartedness of all the people I met, who, with great happiness and love for their precious heritage, allowed me into India's most exquisite temples of great spiritual significance.
A great thanks to all the rickshaw drivers, taxi drivers, bus drivers, luggage handlers, shop keepers, hotel owners and so on, who welcomed me in these, often very remote places.
Thanks to all the priests and pundits for showing me these magnificent temples and guiding me patiently through the highly elaborate rituals. And thanks for letting me touch all the Lingams, except the Somnath and the Rameswaram Linga, which no one, except priests, can ever get close to.
"OM namah Shivaya"
Special thanks to: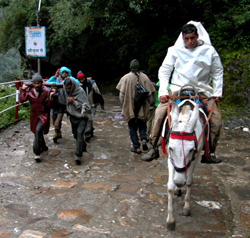 Mukesh, horseman, Kedarnath is taking people 14 km up
and 14 km down to the Kedarnath temple almost every day
in the summer season at an altitude of 3.500m
having a monthly salary, rupees 1000,-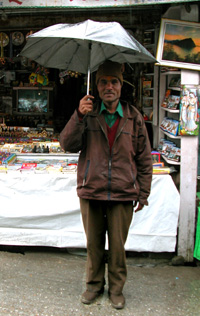 Pandit A.K. Misra, who carefully arranged
the Puja to the Kedarnath Shiva Lingam
And to ...
... Pushpa, the beautifull flowerwoman in the Vaidyanath temple,
who with just a little bit madness ...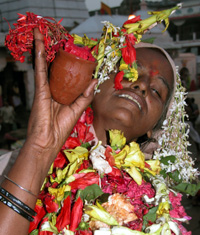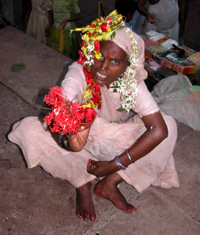 ... followed me carefully around the temple ground,
singing songs about the moon and all the stars,
liking me so much, that I had to flee the temple premises.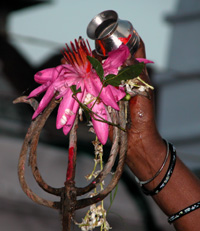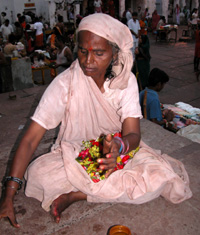 I thank the Lord for giving me His multiple Darshan of all these people
in a wonderful, moving and unforgettable way.
Om namah Shivaya!