Pilgrimages
Visiting holy places has always been a very important part of worship for the all the religions of the world. In the Hindu culture it is a natural and highly integrated part of life and has been so since time immemorial. At every temple, holy river, mountain or even tree people get together to have the blessing of the deities that governs these particular places.
Travelling in India is in itself a great adventure. The culture is so different from the western culture and deeply rooted in the past. Everywhere in these very holy places, you can experience the unbroken tradition all the way back to the Vedic times.
The atmosphere in and around the temples, the elaborate Vedic rituals, developed over thousands of years, tunes your mind towards God and takes you into an instant meditative mood. The places are so highly charged with spiritual energy, that a long lasting transformation is created in you.
"OM namah Shivaya"

The Pilgrimage to the 12 Joytir Lingam Temples
I started travelling to Rameswaram. Tradition says that you should take a little sand from the shores at Rameswaram and bring it, as an offering, to the Vishwanatha Lingam in Varanasi. In Varanasi you take Ganga water to alle the other Lingams. "This is very pleasing to Lord Shiva".
On the next journey I went to Varanasi, to visit the most famous of all and highly protected Viswanath Temple. After that I went south-east to Vaidyanath near Bhagalpur, Bihar and further south to Sri Sailam at River Krishna in Andhra Pradesh.
The third journey startet in Mumbay going to Trayambakeswara, Ghusmeswara, Omkareswara and Amaleswara. Then Gujarat to the Somnath and Nageswara Temples. Back again in Mumbay there is a 8-10 hour journey by bus to the Bhimashankar Temple.
Last journey, but not the least, went to Kedarnath, starting from Haridwar/Rhishikesh. Going north-east by bus or taxi for 2 days and finally walk 14 km by foot or on horseback to the mountain temple which is only accessible in the summer months. The temple is covered by snowmost of the winter and the lighted oillamp that are put there at the time the temple is closed for the winter are still miraculously burning, when the temple is opened again in spring.
January 2007 I went back to Rameswaram with Ganga water, as a final offering for this Yatra.
"OM namah Shivaya"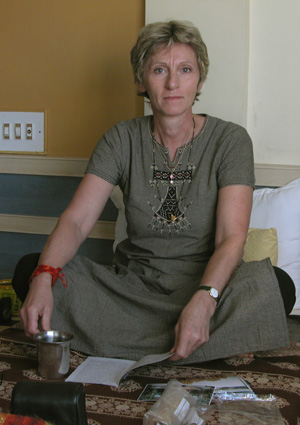 Tourist guides tells, that foreigners or non-Hindus are not allowed inside the very holy
and revered temples. So I set out not knowing if I was actually going to see the Jyotir Lingams or not.
It didn't matter, just being near the temples, just standing outside was enough, I felt.
I guess determination and love allowed me inside and I was feeling very welcome everywhere.
Bharani