The love, relationship and warmth toward all creation as expressed by Rumi is a projection of a deeply rooted divine love. Rumi, whose nature was intoxicated by love, embraced all of creation with a projection of that love. He was involved in a dialogue with every creature, and all of these were a result of his deep love and relationship with God.

"Whoever you may be, come!
Even though you may be
an infidel, a pagan, or a fire worshipper, come!
Our brotherhood is not one of dispair
even though you have broken
your vows of repentance a hundred times, come!"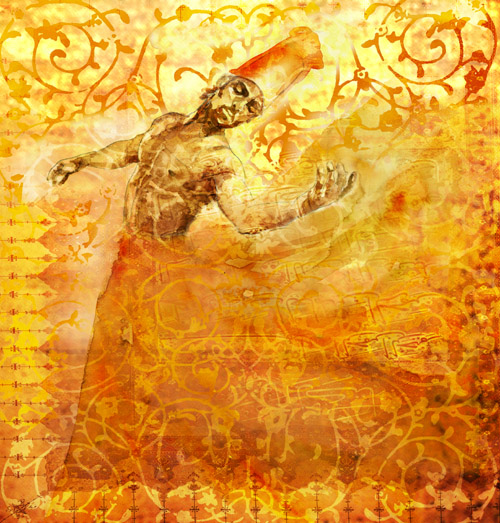 "Not Christian, Muslim or Jew,
not Hindu, Buddhist, Sufi or Zen,
not any religion or cultural system.
I am not from the East or the West,
not out of the Ocean or up from the Ground,
not Natural or Etheral.
Not Composed of Elements at all.
I do not Exist, am not an Entity
in this World or the Next,
did not descend from Adam or Eve
or any Origin Story.
My place is the placeless,
a trace of the traceless.
Neither Body or Soul.
I belong to the Beloved.
I have seen Two Worlds as One
and that One call to and know,
First, Last, Outher and Inner -
only that breath breathing
Human Being ..."
..o0o..
"And still, after al this time,
the Sun has never said to the earth,
"You owe me."
Look what happens with love like that.
It lights up the sky."
..o0o..

Rumi's seven pieces of advice
In generosity and helping others - be like the river.
In compassion and grace - be like the sun.
In consealing others faults - be like the night
In anger and fury - be like the dead.
In modesty and humility - be like the soil.
In tolerance - be like the ocean.
Either appear as you are or - be as you apear.
..o0o..

Maxims from Rumi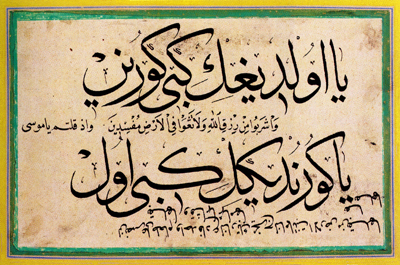 Text on the plaque:
"Either be as you are, or bee as you're seen."
"There is a likeness of man's exterior to all other men.
There is a likeness of man's interior with God."
"The wars of men are like the quarrels of children;
both are meaningless and stupid."
"The middle path is the way to wisdom."
"Before you sat anything, first listen."
"Don't allow your animal nature to rule your reason."
"O, happy is the soul that sees its own faults."
"Know that a word, suddenly shut from the tongue, is like an arrow shot from the bow.
Son, that arrow won't turn back on its way; you must damn the torrent of its source."
"Hard work and earning are not obstracles to finding a treaure!
Continue to work hard, if it is Gods will, the treasure will find you."
"The moon stays bright, when it dosn't avoid the night."
..o0o..
From: "Rumi and His Sufi Path of Love" edited by M. Faatih Cilak and Hüsien Bingül
www.tughrabooks.com ISBN-13: 978-1-59784-078-1
Konya Mevlana Museum Guide by Naci Bakirei