The numerous religious processions are one of the most interesting and spectacular feature for people from all over the world to experience in India.
Being a very religious country, the attempt to get the divine to come to earth and mingle with human beings are intricate and numerous. One of these attempts are the festival processions.
In India there are several religious festivals, where temples are wery busy serving the huge crowds of buzzing pilgrims. During such festivals processions are a most valued activity. The processions usually start from the temples, going around in the temple complex and then out into the street to sanctify the surroundings and back again to the temple. As many as possible participates in carrying the temple idol or follow in front or behind under large commotion! The idol in the procession is a smaller version of the presiding temple deity, which are often were big - the largest made of stone are severel meters high and are never taken out when first installed in the sanctum.
To show reverence and love for the presiding deity huge temple chariots are made in the finest wood carvings. The larger the temple, the larger the chariot! It takes a lot of people, usually men to pull these heavy chariots on huge solid wooden wheels.
Kanchepuram is one of the 7 most holy cities in India, with several very important temples. In Kanchipuram it is possible to see these very special and huge temple chariots both in use or parked in the streets.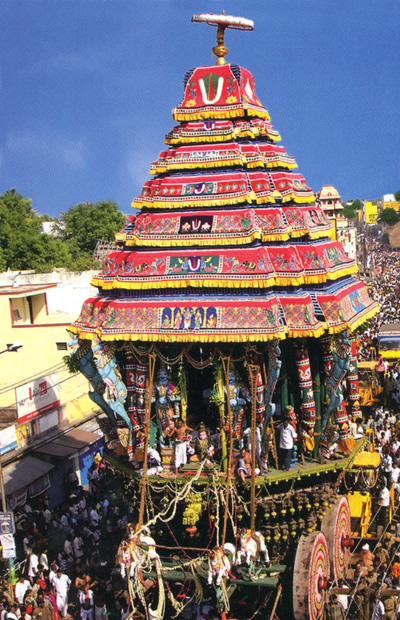 Rahotsavam,
huge procession chariot in the streets of Kanchipuram

A chariot parked in the streets of Kanchipuram.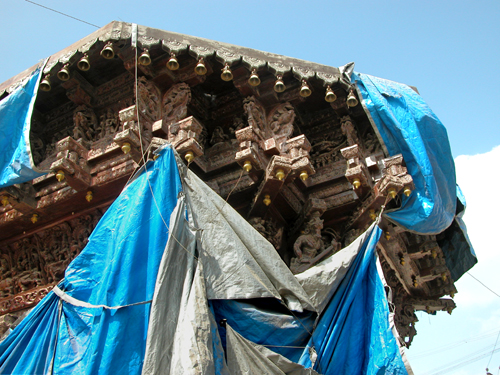 Carefully carved intricate ornaments ...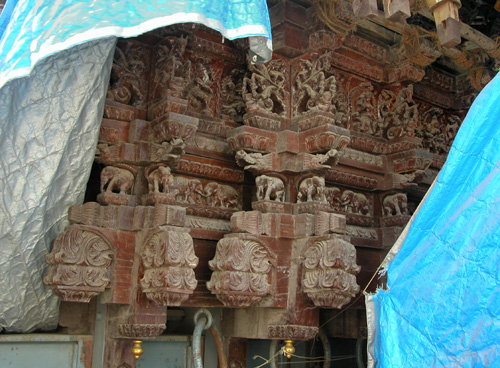 ... of elephants, crocodiles, trees - gods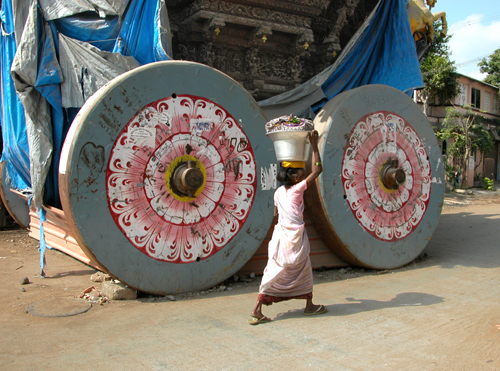 Just to get an idea of the size of these chariots ...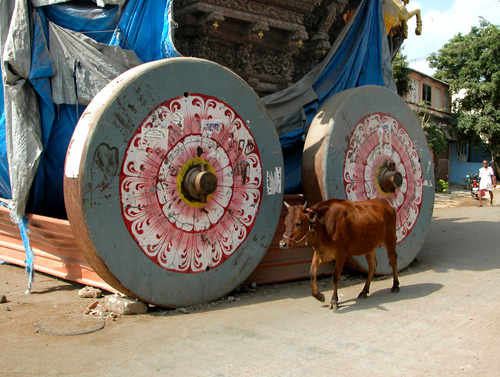 ...this you will only see in India!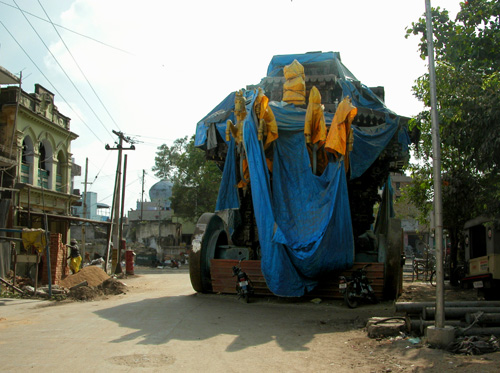 Chariot covered in tarpaulin waiting for next religious event

Another structure in the street keep the chariot safe from sun, wind & rain